In the fourth and final blog in our series about the benefits of timber in construction, we focus on the importance of using locally sourced materials, and the need to increase the amount of locally grown timber products.
In recent months we have all been impacted in one way or another by supply shortages, whether that's been for construction materials, food or fuel. And we can only guess at how this might hinder our ability to source fluffy unicorns for our loved ones at Christmas.
What's clear is that the materials we currently consume come from all over the world, and global issues – like the COVID-19 pandemic – have local impacts. Anything we can do to increase the amount of raw materials sourced locally will contribute to reduced costs and limit the impacts of haulage and deliveries. Local sourcing also removes long lead times from the production and manufacturing processes.
Benefits of using local raw materials
But benefits of local sourcing are not just related to the supply chain. Utilising local raw materials, such as home grown timber, provides jobs for the local community, housing for local residents, and ensures that these same residents are invested in their local businesses. This creates an effective and robust partnership that allows local communities to thrive.
This infographic produced for Scottish Forestry shows the economic value of forestry in Scotland across different areas (data from 2015):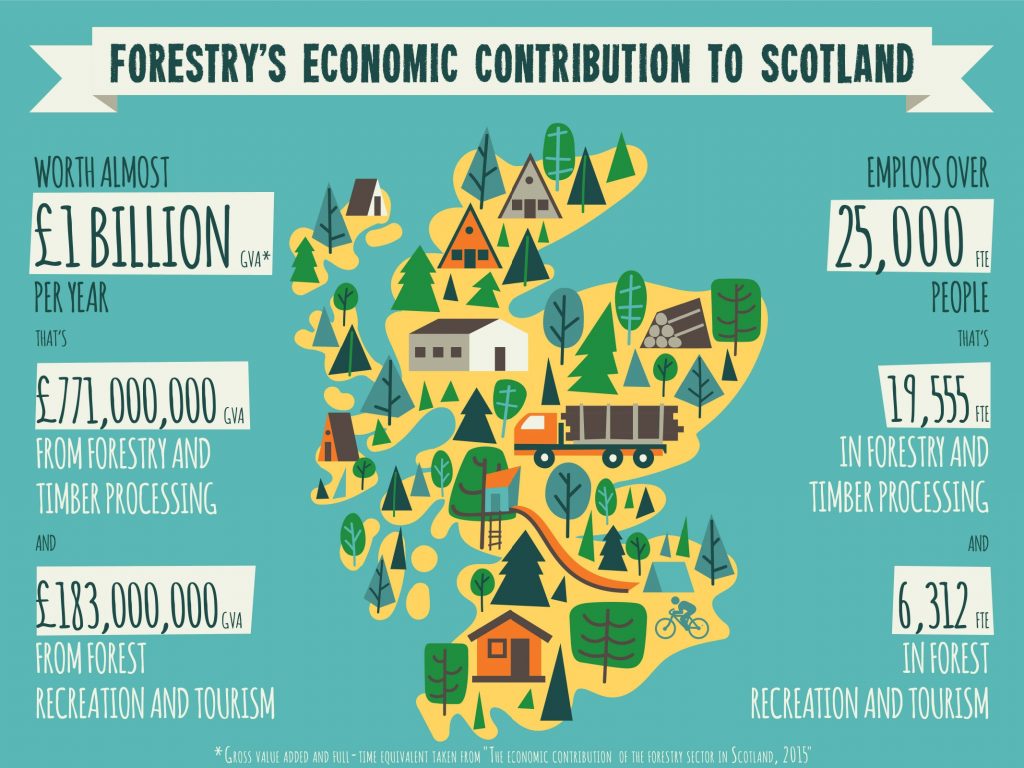 The Grown in Britain Initiative is trying to develop a 'wood culture' by engaging and collaborating with equally passionate partners from Government, retail, NGOs and the private sector1.
Funding from the Welsh Government has enabled Wood Knowledge Wales to establish The Forest Nation Centre2. This initiative aims to educate, innovate and communicate how trees can support the people of Wales in their transition to a sustainable zero-carbon economy. They can do this by following the five key principles shown below: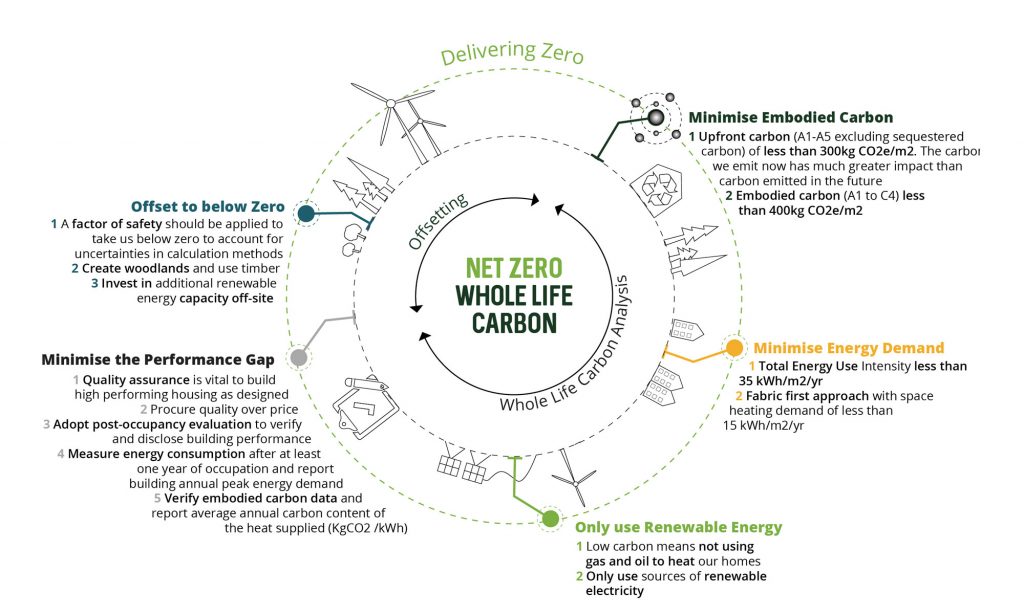 Increasing our local timber supply
As we highlighted in our first article in this series, in 2018 the UK was the second largest net importer of timber products in the world, behind China. This is mainly because we have a relatively small amount of wooded area – at only 13%, compared to an EU average of 38%.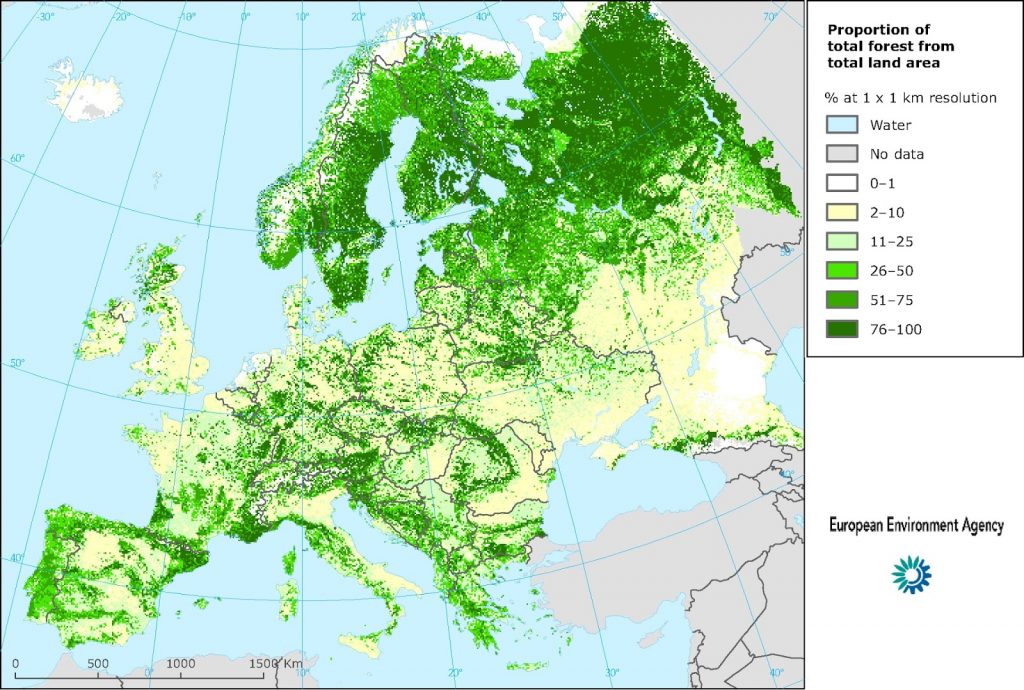 Scotland is currently leading the way building with timber. In Scotland 85% of homes are built using timber frame construction – three times more than in England & Wales – but only a third of timber used is sourced locally3.
If we want to increase the amount of timber we source locally, we need to ensure that the percentage of managed forestry grows in line with an increased use of these materials. The types of trees planted and their geographical spread within the UK also needs to be considered. In the short term, we will have to continue to import timber and timber products, but it is essential that we utilise our existing stock in a sustainable way.
Over the past three years, Scotland has created almost 33,000 hectares of new woodland, planting 66 million trees. In England the government has pledged to triple tree planting to a rate of 7,000 hectares by the end of this parliament. However, this still falls woefully short of the 30,000 hectares annually that many campaigners say are required 4.
Utilising materials efficiently
If we do plant the amount of trees that we need, how we harvest and utilise that resource is critical.
There needs to be systems in place to encourage investment in the manufacturing and processing industries so that the value of these materials can be realised. There has been a start to this but this needs to continue. For example, innovative insulation company IndiNature has recently secured investment for the first dedicated natural insulation factory in the UK 5.
Finally, we need to realise that if we want to bring about real change and try to create a healthier planet for future generations there are things we can do right now, in terms of the specification of materials we use in our built environment.
Vital role of trees and timber
An increased use of timber has tangible benefits that we can feel in the short term, with healthier and better performing buildings, and in the long term with regards positive reduction and storage of CO2. What we also need are the politicians to provide a robust and positive framework, which recognises these benefits and actively promotes them.
The UK government is using COP26 to promise to 'build back better, and greener'. In the construction industry, we need to play our part. We can do this by specifying and detailing the types of timber buildings that can make a fundamental difference to both human health and the health of the planet.
---
Further reading
---
1 source: https://www.growninbritain.org/about-us/
2 source: https://woodknowledge.wales/forest-nation
3 source: https://woodforgood.com/news-and-views/2018/11/11/scotland-sows-the-seed-for-homegrown-timber-housing/
4 source: https://news.sky.com/story/plan-to-treble-tree-planting-rates-in-england-for-climate-and-nature-12307686
5 source: https://www.indinature.co/news/3-million-scottish-national-investment-bank-funds-to-set-up-uk-factory