This is the first in a series of articles, written by members of the Beyond Zero Carbon team from STEICO, BSW, MEDITE SMARTPLY and National Timber Group, focusing on the advantages of timber in construction. Here the team consider the benefits of timber to the wider environment.
If you have ever seen an HGV hurtling down the motorway filled with logs you could be forgiven for wondering how timber can be considered good for the environment. After all, aren't we constantly being told that chopping down trees is a bad thing? Is using timber in construction really a good thing to do?
In this context, it's important to consider some key points:
Firstly, is it advantageous for the environment to harvest trees or to leave them in the forest?
Sustainably managed forests and utilisation of the wood contribute more to climate protection than natural forests. This is because when the wood of dead trees rots, the CO2 stored in it is released again. Over the long term, a natural forest achieves a biological equilibrium in which, on average, as much CO2 is bound as is released. The CO2 balance is in equilibrium.
A positive CO2 balance can only be achieved by harvesting trees, using their wood for material purposes and replanting young trees, which then actively bind CO2 again. This re-planting can be restructured and adapted to reduce monoculture. By including an ecologically sensible mix of tree species, this allows for a robust mixed forest to emerge relatively quickly. In turn, this safeguards and increases biodiversity. Critical of course is to only process wood from sustainable forestry with FSC or PEFC certification. These certifications consider the wider benefits of forestry to our biological, ecological, social and cultural values.

Secondly, we need to ensure that the processing of the timber utilises as little energy as possible
Here the inclusion and understanding of full Life Cycle Analysis (LCA) and Environmental Product Declaration (EPD) documentation is essential. Common construction materials, such as steel, concrete and plastic require lots of energy in their production, and often emitting carbon dioxide when they are made. However, timber production and processing is highly energy efficient 1 with raw material usage often at 100%.
Thirdly, once the timber has been processed we need to realise the amount of CO2 which is stored within it
This CO2 is subsequently locked up within the fabric of a building. We need to begin to value it within the greater context of the specification and performance values. This equates to approximately one tonne of CO2 in every cubic metre of timber. An average house with a floor area of 140m2 can sequester over 40 tonnes of CO2 in the fabric of the building.2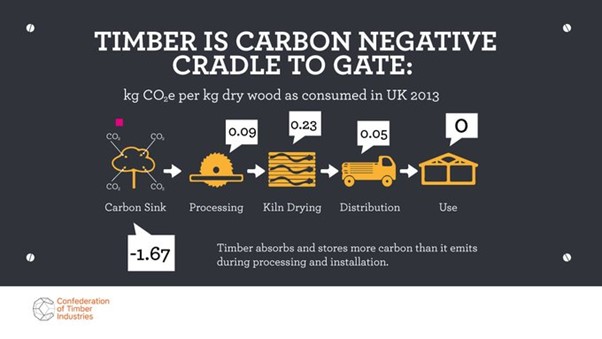 And finally, the transport of the material itself plays a critical role.
Transport is often considered as part of the LCA and EPD documentation. In 2018 the UK was the still the second largest net importer (imports less exports) of forest products in the world, behind China.3 In terms of wooded land area, the UK has around 13% with the EU at over 38%.4 An investment in, and understanding of, our timber stock and its intrinsic value to society will play a critical role in the long term challenges our climate faces.
So the next time you see that timber on the motorway, just remember that it could be playing a major role in combatting the climate crisis.
Further reading
– How the COP26 House has been designed for zero carbon impact
– Carbon Measurement of the COP26 House
1 source: Federal Office of Statistics – Timber construction Germany
2 https://www.forestryengland.uk/timber-uses-of-wood
3 https://www.forestresearch.gov.uk/tools-and-resources/statistics/forestry-statistics/
4 https://www.forestresearch.gov.uk/tools-and-resources/statistics/forestry-statistics/forestry-statistics-2019/international-forestry/forest-cover-international-comparisons/